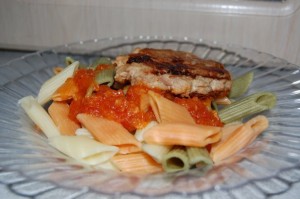 Ingredients:
4 cans of tuna
1 egg
1 tbsp. mayo
1 tbsp. ketchup
onion soup mix
garlic powder
flavored breadcrumbs
I add a bit of curry to give it a kick!
Directions:
Form the patties using the ingredients above. Then grill them on an electric grill or grill pan, or broil them in the oven. Once ready, serve on tri-color penne pasta with fresh tomato sauce.
~ Recipe submitted by Shaina Batya Loksen-Lipskier