Spiced Salmon with Cilantro Lime Mayo
Spiced salmon is my favorite no fuss way to serve salmon. I know without fail it will turn out great so it's the perfect dish to cook up on a busy weeknight. I like to serve it with a flavorful dipping sauce which also happens to make it fancy enough for a weekend dinner when entertaining guests. Add some freshly chopped herbs to the serving platter and everyone will think you spent more (much more!) time on it than you actually did.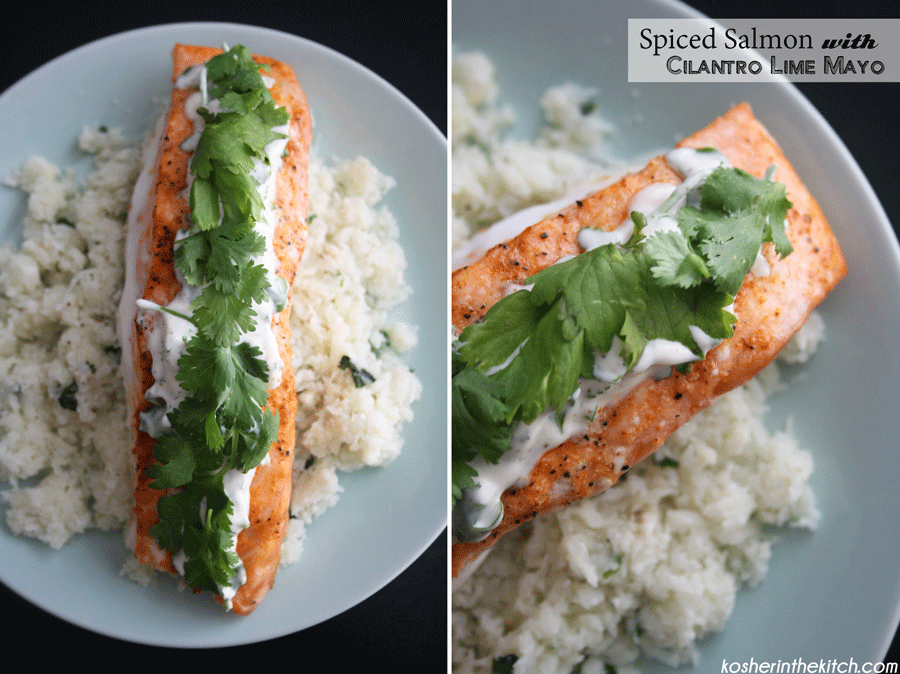 Ingredients:
2 lb. Salmon Fillet
1 tablespoon olive oil
1/2 tsp montreal steak seasoning
1/2 tsp. salt
1/4 tsp. garlic
1/4 tsp paprika
Directions:
Place salmon, skin side down, on a baking sheet covered with parchment paper. Drizzle olive oil over salmon. Season with spices, making sure to rub it in. Place in oven on 450′ for about 12 minutes, until salmon is cooked through and flakes easily. Prepare cilantro sauce by combining ingredients. Serve over salmon or on the side.
Cilantro Lime Dipping Sauce:
1/2 cup of mayo
2 tablespoons chopped cilantro (fresh!)
Juice of 1/2 lime
1/4 tsp. chile powder