Shakshuka with Sausage
I posted a video of my lazy shakshuka for breakfast today (on snapchat and instagram, follow me here for all of my foodie adventures!) then realized I didn't have an actual recipe for shakshuka posted here on the blog. I have been creating recipes for kosher in the kitch for the past 8 years yet most of them don't end up on the blog since I'm about as lazy with updating my blog as I am with my cooking. This is a dish I first made in 2014 and it's a family favorite. Served with toasted challah it's the perfect brunch.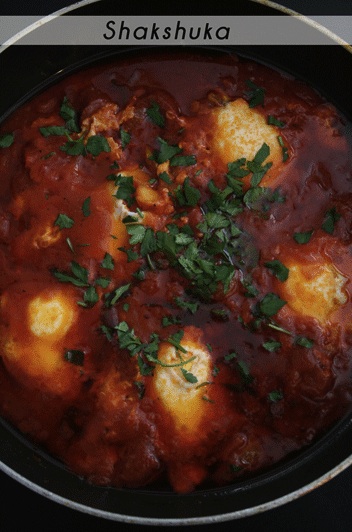 Ingredients:
1 onion,diced
1 red pepper, diced
1 yellow pepper, diced
3 cloves garlic, diced
4 sausages, cut into thin rounds
16 oz. tomato sauce
1/2 teaspoon salt
1/2 teaspoon montreal steak seasoning
1/2 teaspoon sweet red paprika
1/4 teaspoon cumin
Chopped parsley (or cilantro) for serving
Directions:
Saute onions and peppers until tender. Add sausage and cook until slightly browned. Add tomato sauce and spices. Add 5 eggs gently into sauce then cover and cook until eggs are set. Serve with chopped parsley or cilantro.
~ Recipe submitted by Nina Safar