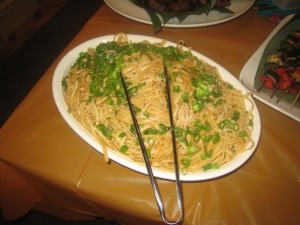 1 package linguine
6 cloves garlic, minced
6 tablespoons sugar
6 tablespoons safflower oil ( i use canola oil)
6 tablespoons rice vinegar ( i use white vinegar)
6 tablespoons soy sauce
2 tablespoons sesame oil – this you can't replace!
1 teaspoon crushed chilli/red pepper flakes (adjust to your liking)
6 scallions, sliced
1 teaspoon sesame seeds toasted
Cook linguine, drain and transfer to large bowl.
In a saucepan, combine garlic, sugar, oil, vingar, soy sauce, sesame oil and chilli/red peeper flakes over medium heat. Bring mixture to a boil stirring constantly until sugar dissolves.
Pour over linguine, tossing to coat. Sprinkle with scallions and sesame seeds.
~ Recipe submitted by Chaya Sarah Roth