Sausage Stuffed Sweet Potatoes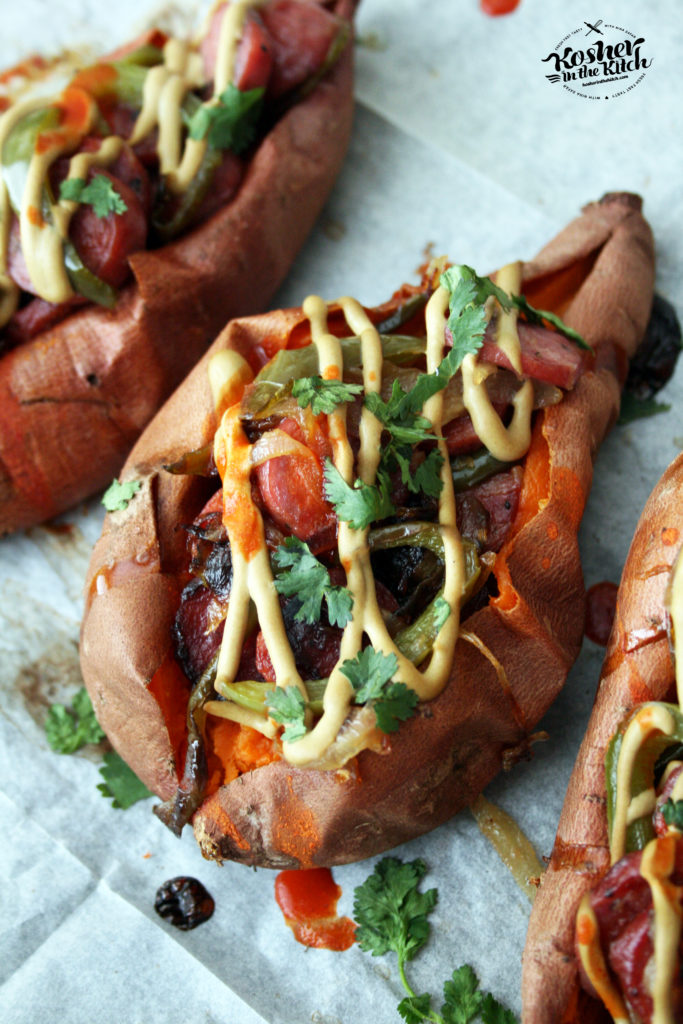 Savory sausage and peppers served over baked sweet potatoes with mustard drizzled on top and cilantro garnish. Hot sauce optional (although in my kitchen it's a must!). This is one of my favorite meals to cook, serve and EAT since it's super easy to prep, looks fabulous on a plate and tastes delicious. It's a great easy weeknight dinner but also is pretty enough to serve for Shabbat dinner or when entertaining over the holidays.
Ingredients:
4 sausage links (12 oz package of ANY flavor sausage. I like sweet Italian!)
1 large onion, thinly sliced into half moons
1 large pepper (ANY color) thinly sliced into strips
5 sweet potatoes
Dijon mustard for serving
Freshly chopped cilantro for garnish
Directions:
Clean potatoes then pierce with fork or knife. (a few times all over) Place whole potatoes on parchment lined baking sheet and bake on 350′ for about an hour until soft. Slice sausage links into thin rounds. Heat up a large frying pan with a little bit of olive oil (about 1 to 2 tablespoons) then place onions, peppers and sausage in pan. Cook on medium to low flame until nicely browned, stirring every so often. Once potatoes are cooked, allow to cool off before slicing down the middle but not all the way through. You want to create a pocket to fill up with the sausage mixture. Mash the insides of the potatoes with a fork. Optional, you can add a little bit of earth balance (non dairy butter) to mash the insides but it's perfectly delicious on it's own. Top potatoes with sausage pepper mixture. Drizzle dijon mustard on top. Garnish with freshly chopped cilantro.
Tips&Tricks:
Swap sausage for hot dogs. You can use any veggie combo you like. Mushrooms and zucchini are delicious options. Instead of mustard you can serve with bbq sauce, hot sauce, my favorite cilantro lime mayo, sweet chili sauce or your fav dressing! Swap cilantro for chopped chives or parsley. You can also serve the sausage mixture with egg noodles, rice or quinoa instead of baked potatoes.