Honey Mustard Chicken with Rosemary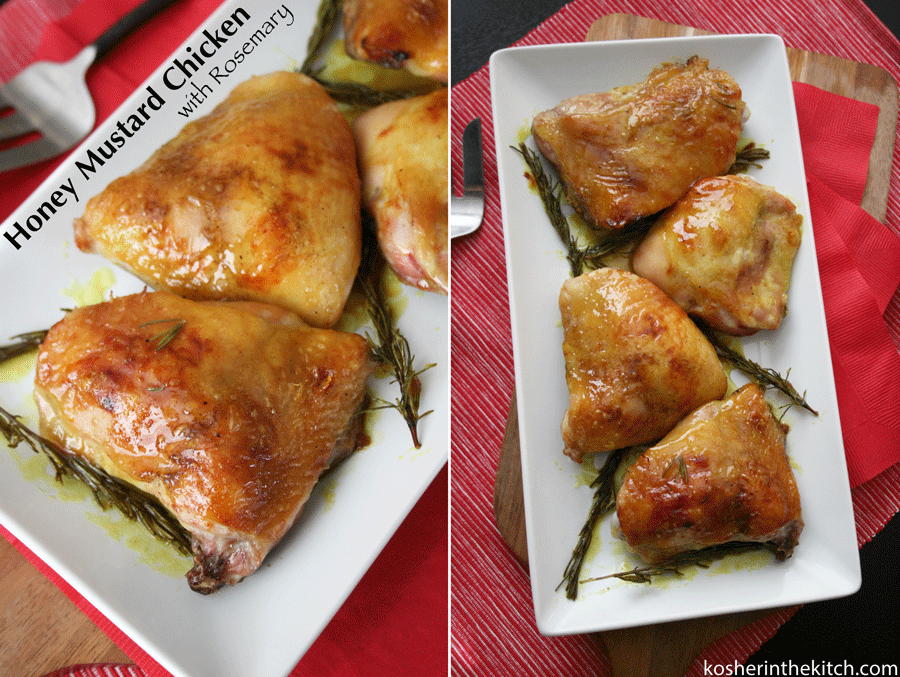 I need only two things in a recipe. I need it to be easy and I need it to taste good. Once that is covered, the hostess in me would also love for it to be impressive. (yes I like to score points in the kitchen when I can) A recipe does not need to have a large list of ingredients or a complicated process for cooking and plating to please guests. As long as it looks inviting (think glossy sauce, crispy skin, fresh herbs) then everyone will eagerly want to dig in. This recipe for honey mustard chicken with rosemary hits it out of the park with all three.
Ingredients:
1.5 lbs chicken thighs (4 to 5 pieces)
1/4 cup honey
1/4 cup mustard
1/8 t black pepper
1/4 t salt
4 sprigs of fresh rosemary (plus more for serving)
Directions:
Place chicken in baking dish. Season with salt and pepper. Combine honey and mustard until smooth. Pour over chicken pieces. Place rosemary in pan between chicken pieces. Bake in oven on 350′ for about 45 minutes or until chicken is cooked through. Serve with fresh rosemary placed over chicken.
Tips & Tricks: I served this with steamed broccoli and the honey mustard sauce tasted amazing spooned over it!
~ Recipe submitted by Nina Safar