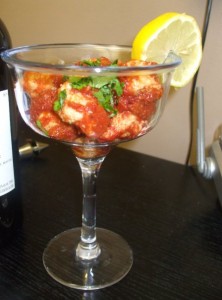 1 loaf DEFROSTED sweet gefilte fish
16 oz. can crushed tomatoes
1/8 teaspoon crushed red pepper
1/2 teaspoon garlic powder
3 Tablespons honey
1/2 teaspoon salt
1/2 teaspoon pepper
Bring everything but the fish to a boil
Turn down to simmer
make small ballies out of gefilte loaf (makes about 30 balls)
Simmer 35 minutes.
Serve cold with lemon wedges to squeeze over the top.
~ Recipe submitted by Dorie Bofshever Ehrenreich