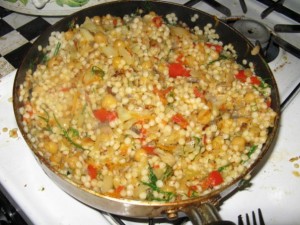 Ingredients:
1 Cup of Couscous cooked
6 green Onions chopped
1 red or green pepper chopped
1 cup of fresh mushrooms
1 can of chickpeas
1 carrot, grated
salt and pepper to taste.
1/2 tsp Basil
2 tbsp minced fresh dill or 1 tsp dry dill
Directions:
Sautee the green Onions & the pepper. Add the cup of fresh mushrooms & Sautee 3-4 minutes. Add the Couscous. Add the can of chickpeas without the water. Add the grated carrot. Add salt and pepper to taste. Season with Basil and Dill.
~ Recipe Submitted by Aliza Kessler