Chicken Avocado Wraps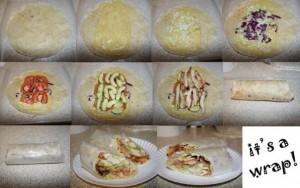 For the chicken, sprinkle your favorite spices or bbq sauce and broil for about 8 minutes on each side on the lower rack. Allow chicken to cool and slice. 
Honey Mustard Dressing: 
1/2 cup mayo 
1/4 cup honey 
1/4 cup mustard 
(will be more than enough for a few wraps, you can halve the recipe if you want) 
Layer ingredients in the center of the wrap, starting with the dressing, lettuce, tomato, avocado and chicken. Roll up (it's a good idea to use wax paper as it holds it together nicely) and serve.
~ Recipe submitted by Chanie Apfelbaum