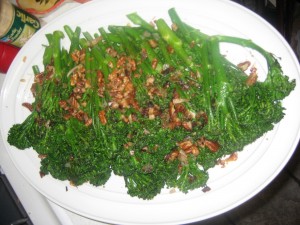 This recipe is for 10 Servings.
2 1/4 to 2 1/2 pounds broccolini (about 4 bunches)
6 tablespoons (3/4) stick butter (or Margarine if it is for meat)
1/4 cup finely chopped shallots (about 2 medium)
1 garlic clove, chopped
1/2 cup toasted pecans, coarsely chopped
kosher salt
Bring Large pot of salted water to boil. Add broccolini; stir to seperate and cook 2 minutes. Drain. Transfer broccolini to paper towels to drain. Melt butter in extra-large skillet over medium heat.  Add shallots and garlic, then pecans; saute untill shallots are soft, about 3 minutes.  Increase heat to medium-high; stir constantly until butter is browned and pecans are aromatic, about 3 minutes.  Add broccolini to skillet and toss gently until heated through, about 7 minutes. Season to taste with coarse (kosher) salt and pepper.  Transfer to platter and serve!
Tips:
1.You can boil the broccolini a day ahead and wrap in paper towel in a ziploc bag.
2. If you do not have a skillet large enough for all 4 bunches you can do it in batches.  Use a 1/4 of the amount of butter/margerine 1/4 of the amount of pecans and a 1/4 o the amount of broccolini and make in batches.
Enjoy it is Delicious and a great crowd pleaser:)
-Recipe submitted by Aura Schwartz