Breaded Tofu Sticks with Avocado Cilantro Dipping Sauce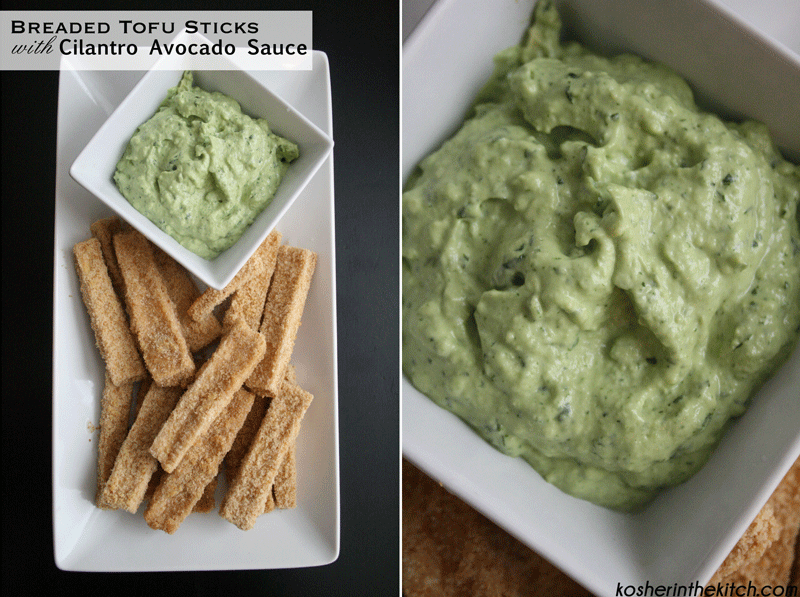 There is nothing quite like a crispy just fried french fry. No fast food meal is complete without them. If you are ordering a burger, hot dog or cheesy slice of pizza you had best include a side order of fries with that! The only thing better than french fries, is what you dip them into. Ketchup, spicy mayo, ranch and dill sauce are all great options.  There is something so satisfying about biting into crispy fries smothered in a delicious creamy sauce that makes me want to say skip the diet and just go for it! Wanting something crispy and creamy minus the calories, I decided to recreate everyones favorite potato appetizer and make it a dish to indulge in without the guilt. Behold, you have Tofu French fries (or breaded tofu sticks) served up with creamy avocado cilantro dipping sauce. I am crazy about this recipe! I cook them up about twice a week, sometimes more. It's affordable, easy to make, healthy and insanely addicting. If you have not cooked these up yet, please do so now. Seriously, get off the computer and make them now. Then, leave a comment below letting me know if you like them as much as I do. Probably not but you might come close.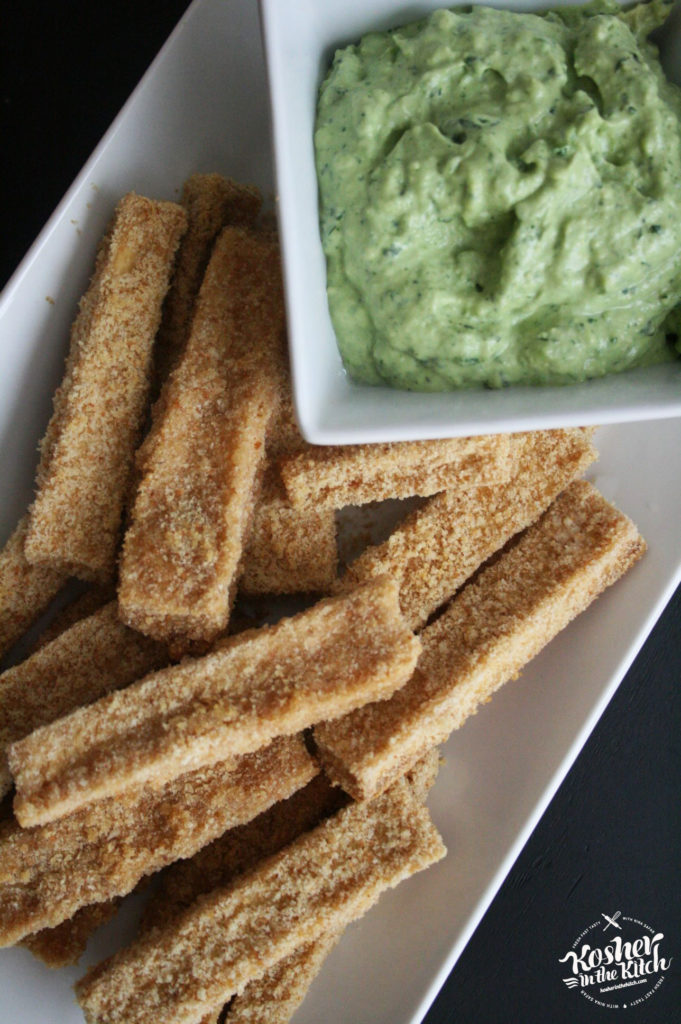 Breaded Tofu Sticks:
Ingredients:
1 container of extra firm tofu
2 eggs, beaten
1 cup of bread crumbs
Directions:
Remove tofu from container and drain water. Wrap tofu in paper towel and leave on counter to drain for 20 minutes. Pat tofu dry with a paper towel. Slice tofu in half, across the middle to make two thinner pieces. Then cut tofu into french fry sticks. Coat the tofu sticks in egg then dip into crumbs. Place on a lightly greased baking pan (I use cooking oil spray) and bake in oven on 400′ for 20-25 minutes until crispy. Serve with avocado cilantro dipping sauce.
Avocado Cilantro Dipping Sauce:
Ingredients:
1 avocado
1/4 cup chopped cilantro
2 tablespoons mayo
salt & pepper to taste
chili powder (optional)
Directions:
Blend ingredients together until smooth.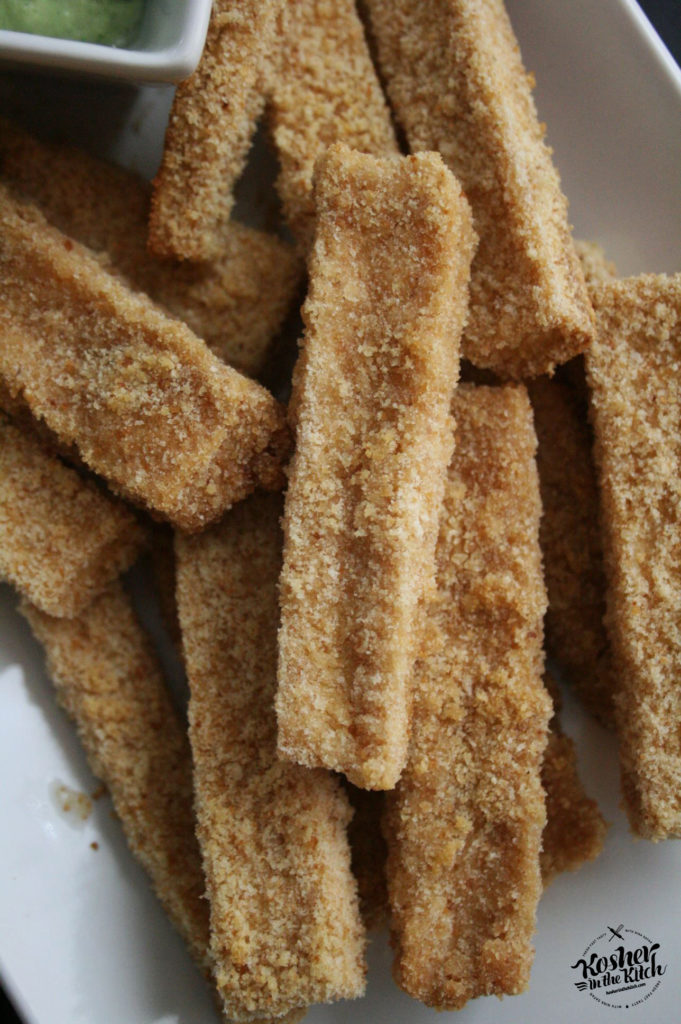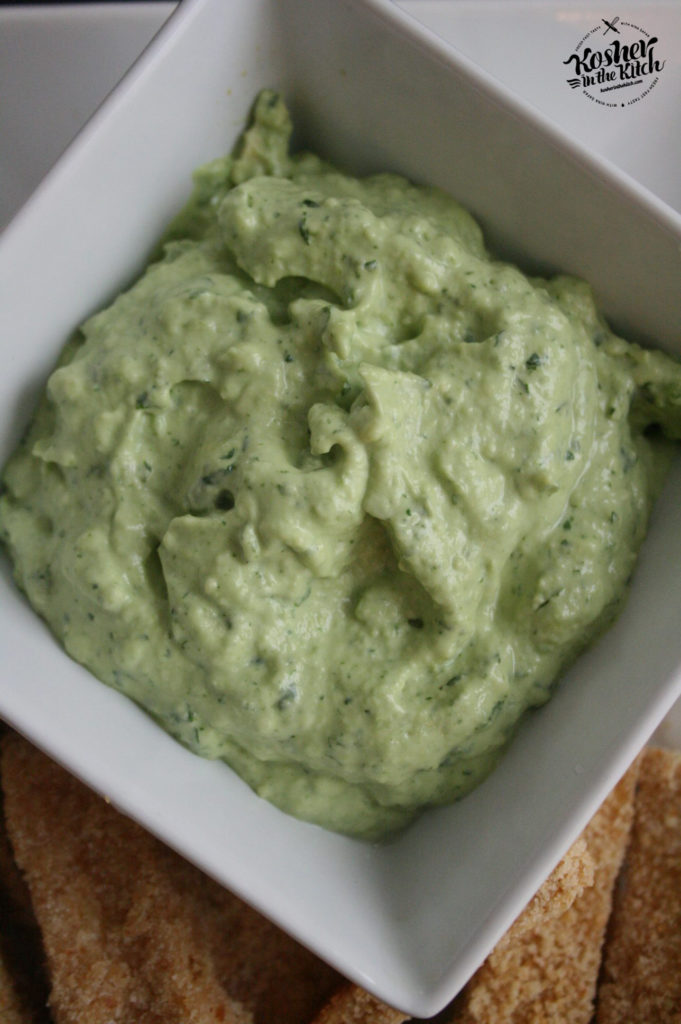 ~ Recipe submitted by Nina Safar