Apple Pie Egg Rolls with VEGAN Cinnamon Whipped Cream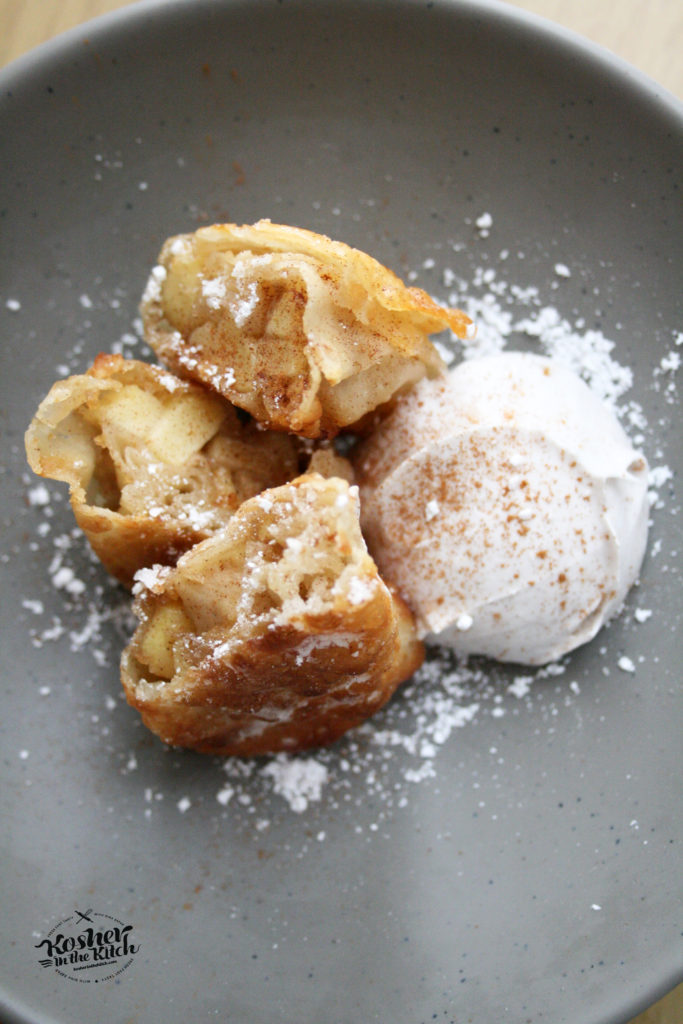 Ingredients:
2 large apples (gala or granny smith)
1/4 cup brown sugar
2 teaspoons cinnamon
1/4 teaspoon allspice (or nutmeg)
2 tablespoons flour
Juice of 1 lemon
Egg roll wrappers
Directions:
Combine sugar, cinnamon, allspice and flour in a bowl. Peel and dice apples. Combine with juice of lemon in a bowl. Place sugar mixture over apples and combine well. Place 1 to 2 tablespoon of apple filling on egg roll wrappers, then wet edges and roll up. Fry until golden brown on all sides, place on paper lined plate and dust egg rolls with cinnamon sugar. In place of frying you can also bake on 375′ for about 15 to 20 minutes or until golden brown.
Serve with NON DAIRY coconut cinnamon whipped cream.
Coconut Cinnamon Whipped Cream
Ingredients:
1 can of full fat coconut milk
3 tablespoons powdered sugar
1 teaspoon vanilla
1/4 teaspoon cinnamon
Directions:
Refrigerate coconut milk overnight. Open can and scoop out the solid coconut cream that forms on top. (Reserve the coconut water for a smoothie!) Using a cold metal bowl and beaters (place both in freezer for about 10 minutes before making whipped coconut cream) beat the coconut cream until soft peaks form. Add powdered sugar, vanilla and cinnamon and continue beating until combined.